By B-CC High School Intern Max Edelstein 
Today, many different aspects of society are moving towards a shared economy. Uber, Airbnb, and WeWork are all businesses that emphasize resource-sharing over individual ownership. With the passage of Montgomery County's "Electricity — Community Solar Energy Generating System Program" in 2015, the sharing of clean and sustainable energy is now a part of this innovative community.
Community solar provides the benefits of locally produced, affordable, clean energy without any equipment installations or upfront fees. People who would not otherwise have access to solar power due to where they live or barriers, such as trees or buildings, can subscribe to a local solar project (solar plant) in their area and receive a steady supply of solar power through their standard utility lines. The utility service provider guarantees power 24/7, so electricity still flows to the consumers' homes even when the sun does not shine.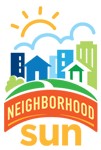 Neighborhood Sun, a local community solar startup founded in early 2016, is leading the way. Located in Bethesda, the company's goal is to identify local solar projects "with the idea that they will produce affordable power, local jobs, and enhance the nearby environment and community" (Neighborhood Sun). The projects collect solar energy through panels and convert it into electricity sent to consumers' homes. Neighborhood Sun engages community subscribers — local participation being key to success. Through Neighborhood Sun, people can make an impact on the environment without any additional installation, and earn solar credits, or money back, for their contribution.
CEO and Founder Gary Skulnik had an interest in the environment since he was a kid. He says the inspiration behind Neighborhood Sun came from wanting to create access to "clean energy at the local level." With his experience in wind power, Gary had the capability and drove to make Neighborhood Sun a reality, combining environmental passion with entrepreneurship and becoming a force for good.
Soon after Neighborhood Sun's founding, Emily Tokarowski and Armando Gaetaniello joined the team as Outreach Coordinator and Outreach Associate, respectively. They bring unique experiences and perspectives to Neighborhood Sun. Emily has degrees in environmental studies and communication and says her experience allows her to be "geared towards start-ups" like Neighborhood Sun, and focus on "the roots of mitigation" concerning solar power. Armando, who has worked in many different countries including Germany and Italy, is interested in "how society manages the environment, climate policy, and how we manage environmental resources at the local and global level."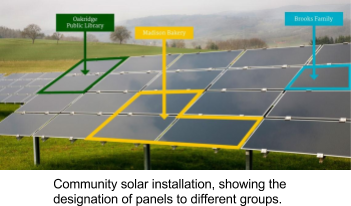 However, starting a business can be complicated, especially the first six months. Gary says he began by designing a business plan, "talking to friends and setting up meetings over coffee" to get the word out and raise capital. Funding came mainly from individual donations, but forging connections was the most critical part. Emily emphasizes the importance of developing symbiotic relationships with partners, meaning the connection is beneficial to both parties. Gary, Emily, and Armando are all able to combine technical knowledge with communication, which is crucial to connecting with clients and consumers.
In the summer of 2016, the company became a Bethesda Green Be Green Hub incubator member. This allowed Neighborhood Sun to take grow exponentially. Aside from office space, Bethesda Green gives Neighborhood Sun "access to a lot more people, including policymakers, and the natural community, as well as general advice and mentorships."
Today, Neighborhood Sun is in a significant growth phase. According to Gary, Emily, and Armando, a typical day's work involves "strategic planning, research, forming residential partnerships, and reaching out to large solar developers." In the future, they hope to finalize these partnerships and start reaching out to their first consumers, who will help Neighborhood Sun realize its true potential in the community solar industry.
Neighborhood Sun is truly unique. They are the only Maryland-based, socially conscious; clean energy company focused exclusively on community solar. They are B-Corp Certified, meaning their "environmental and social goals are part of their DNA, and they are committed to serving customers, employees, communities, and the planet" (Neighborhood Sun).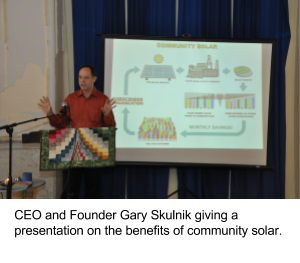 When asked about the most creative aspect of Neighborhood Sun, Gary said that the whole "community solar model is innovative. It is a new way for the community to get solar, and it gives access to a lot more people." Being very socially-oriented, Neighborhood Sun emphasizes generating members and partners, not just customers.
Looking forward, Neighborhood Sun's goal is to grow into more states to increase their influence and make an impact in the solar space. They want to lead the way for more communities to get involved, and build communities by bringing people together over shared solar. Neighborhood Sun has the potential to make a real difference.
Learn More about Neighborhood Sun
Sources
"Benefits of Community Solar Projects." Neighborhood Sun, neighborhoodsun.solar/.
Medici, Andy. "Startup of the Week: Neighborhood Sun wants to put solar power in the hands of the people." com, Washington Business Journal, 2 Sept. 2016, www.bizjournals.com/washington/news/2016/09/02/startup-of-the-week-neighborhood-sun-wants-to-put.html.
"Neighborhood Sun." Neighborhood Sun – Home | Facebook, Facebook, facebook.com/neighborhoodsun/.
Sun, Neighborhood. "Neighborhood Sun (@NeighborhoodSun)." Twitter, Twitter, 9 Nov. 2017, twitter.com/neighborhoodsun?lang=en.
"As utilities attempt to co-Opt "community solar", SELC pushes back." Southern Environmental Law Center, SELC, 7 Apr. 2016, As utilities attempt to co-opt "community solar", SELC pushes back, https://www.southernenvironment.org/uploads/news-feed/_1140/community-solar-illustration-header_2.jpg.
Images provided by Neighborhood Sun